After visiting Roy (New Mexico), I have the feeling we have climbed in one of those climbers' paradises. There is no surprise why this area is growing and becoming famous all over the United States.

After a 5 hours drive from Denver, we arrive during the night to our outdated hotel in the aging town of Roy.
If it looks like this town once was alive (theatre, bars, restaurants…), it is not the case anymore. Only one hotel, one restaurant, one gas station, and one grocery store are remaining. Well, one could think this represents all the climbers' needs. But if I tell you that you won't find a single drop of alcohol within one hour drive, no doubt you will anticipate more than we did…
After a restorative sleep, and having in mind the laudatory articles about this area (as for example the one from Climbing), we first goto the « Middle Mesteño » area. It is difficult to imagine, while leaving Roy, that we are going to climb.
But after reaching the car park, just above the canyon, we quickly realize that the area is full of rock!
We walk down in the canyon. The sandstone, looking like Albarracin's one, and even sometimes looking like Rocklands' one, really is attractive. We put our climbing shoes on and start climbing on the first boulders we encounter. The area is chaotic and the bottom of the canyon is packed with boulders.
If the really photogenic Puddlejumper (v6) is not that pleasant to climb, Fun Bags, in the same grade, really is amazing, even if, because it looks like all the climbers from Boulders have made the trip, we have to queue! This area really proposes nuggets!
Night is coming. We have to quickly go back to Roy as the restaurant closes at 7 pm (this might look OK for an american, not for the europeans some of us are)!
The day after, we decide to check Upper Mesteño out. If this area is located in the same canyon than Lower Mesteño, the climbing here is totally different. The boulders are not in a chaos anymore, but most of them are in fact low cliffs.
We warm up in a nice sunny wall full of V1s: The Keep.
Then, we have some fun in Batman's roof (V7).
In this area, one will find a few « king lines » like Ergonomicon (V7), or Moss Neisley (V5).
The incredible World Wide Wall will see our last climbs. Tiredness will not prevent us from doing the amazing highball line of Carpet Bombers (v8 stand, v10 sit).
As a conclusion, Roy really is a amazing area in amazing landscapes. We have only visited the two Mesteño Canyon's areas and have been told that the other areas, like Mills Canyon, are as good, and that there is still the potential to open a bunch of lines.
When to go
Roy definitely is a winter area, when the days are cool and dry. Summertime is too hot and the area is packed with rattlesnakes.
Guidebook
You can order it at New Mexico Bouldering.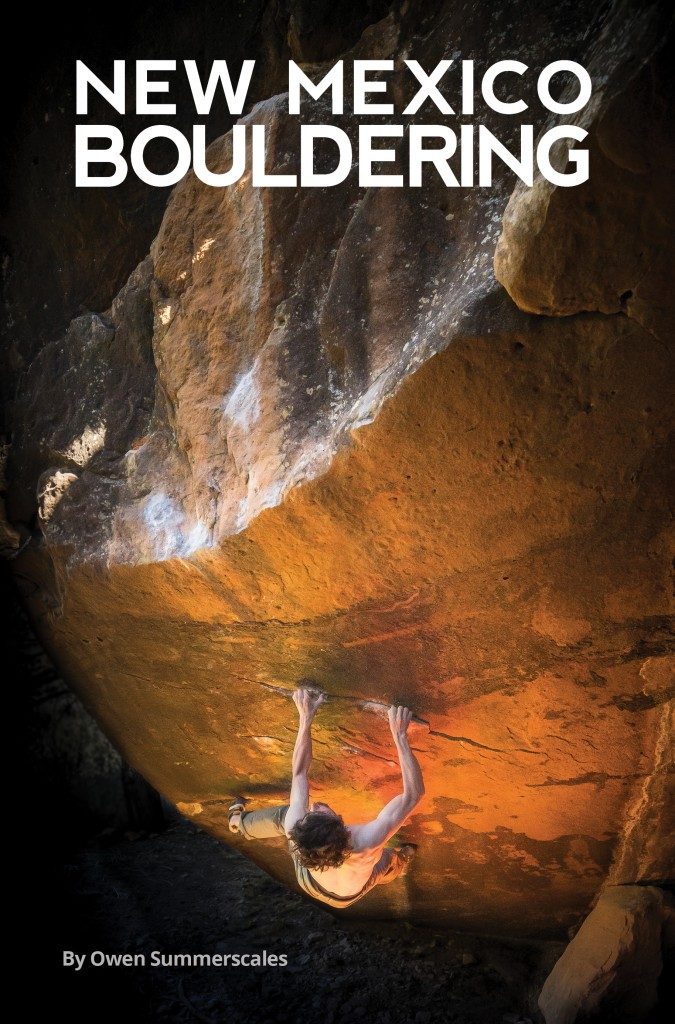 Eat/Sleep
There are some camping spots close to the climbing areas. Winter nights can be cold though. The closest hotel is the Mesa Hotel in Roy. Clean and basic. Call +1 575-485-2661 for reservations.
You can buy food at the grocery store and you will also find a restaurant that closes at 7 pm most of the days (even earlier on Sundays). Bring your beers as you won't find a drop of alcohol within one hour drive.
Video
Gallery