Great Southern sandstone! After HP40 in Alabama, ZeBloc takes you to LRC (Little Rock City, also called Stone Fort) in Tennessee.
This area is located close to a golf course and the owners have gratefully opened their property to climbers.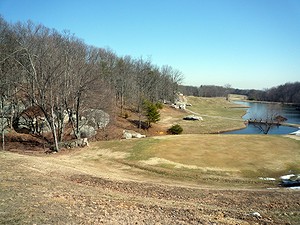 18th hole from the Club House. Boulders are left hand
One willing to climb in this area doesn't have to register anymore before climbing as it was the case before 2010. But the procedure and rules written at this address have to be followed, otherwise the area could be closed for climbing.
The area can be quite crowdy during some week-ends in fall, when bunches of local climbers go there to get ready for the Triple Crown stage. Once, when one neede to register before going to LRC, I woke up at 6 and couldn't register because it was already full!
After registering at the Club House and eventually renting a crashpad (I got a big Misty Mountains for 5$ a day), the first boulders are immediately met. They are located on the bottom of a cliff that runs beside the golf course, or on boulders fallen from the cliff. Climbing here reminded me climbing of La Capelle (South of France) : same sandstone, mazes of boulders…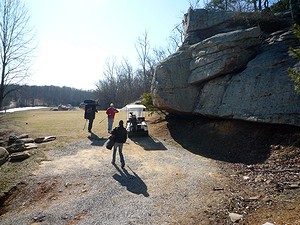 When pads and caddy meet …
Every climber should find boulders at his level. Steep climbs are quite few, holds are of all kinds and mantles may be hard even if friction is less important here than at HP40.
Speaking about great boulders, Deception (V7) is a fantastic wall and The Shield really looks great (I wish I had several days to try it). But many other boulders are worth the skin!
One will find a bunch of movies just by entering « LRC Bouldering » or « Stone Fort Bouldering » on Google or others.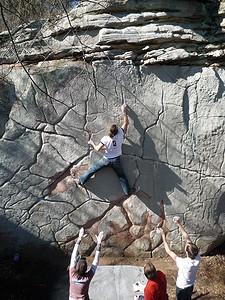 Deception (V7) : great!
For some reasons (I've tried unsuccessfully to find out), the guidebook made by the Triple Crown team a few years ago is not online. But you can try to ask for it on the seclimbers' message board. I did receive it on my mailbox!
But, since 2010, a brand new guidebook is available at Greener Grass Publishing.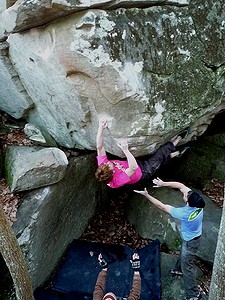 Bedwetters (V10) : one of LRC bases
Last but not least, I'd like to point out that an hotel dedicated to climbers is to open in Chattanooga during the spring of 2011. The main objective is to propose cheap rooms to the climbers, a great idea! Name of this hotel? « The Crashpad »