168 pages, format 18 x 13 cm, colour pictures on all pages, Cover in Velour (woven fabric) to foldout with big panorama, ISBN 3-9502104-0-7, publishing house: www.klemloskot.com, 2006, USD 37.00, EUR 29.90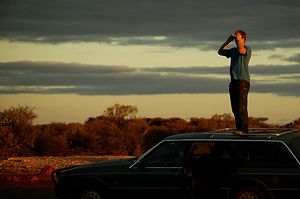 Klem Loskot loves nature! This climber-skier-surfer shares his passions in an original book ; Emotional Landscapes.
Few words (simply those necessary to share the emotion in a picture), lots of pictures (bouldering, skiing, landscapes, people) and a friendly and surprising format (pocket book like) make this book a must-have for your bedside table.
It's not for everyone, it will not become a best-seller (as Klem says), but, at ZeBloc.com, we really liked it!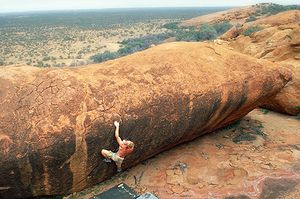 We enjoyed the variety of the pictures and the areas that are shown. For example, for bouldering and deep-water-soloing, Klem takes us from Spain to Indonesia, to the Indian Ocean, without talking about grades, just sharing emotions provoked by nature!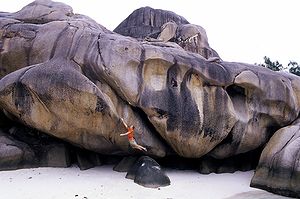 But let's read what Klem himself says about his book : « This book is a work with images and recollections which I accumulated in the last few years. Years of travelling in Asia, North, – South – and Central America, India, Australia, Europe and in my home place. Giant birds, fast cars, trains and boats opened up our world to a global village. Yesterday hanging out in shorts in the tropics and tomorrow in the snow of the Alps. Each place has an own flair with special inhabitants, humans as animals. I made friends with various rock types and formations, with an Indian family, with a Kangaroo hunter somewhere in the Australian bush, with snakes, with fresh snow, with coral reefs where waves get peeled, with the dessert and the ocean.
Back home I tried to reconstruct these memories and melt them to one thing. It's like a copy coming directly from the brain. Strong moments and emotions are dominating rationalism. Short texts, title plus subtitle, connecting the image to this special and invisible emotions. For the viewer it should be an inspiration, a visual joy and inviting to dreams…  »
Klem Loskot 2006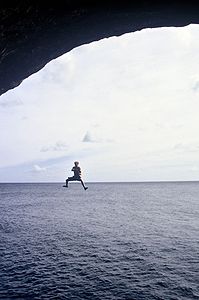 For more information, go to Klem's website where you will be able to buy Emotional Landscapes ()
And, but of course you already know that , Klem's interview already is online.