In Albarracin, I had the feeling that I was climbing at one of the best bouldering areas anywhere! Red grit boulders in a magnificient pine forest, small to tall boulders, roofs, walls, all sorts of holds, a truely enormous potential, the spanish way of life and a beautiful village. I don't really know how to start writing this page!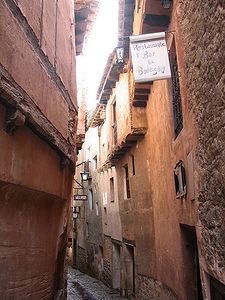 Street of Albarracin
So, let's talk a little bit about the village : it's a beautiful medieval village, built on a hill located in a mountainous landscape. Albarracin is very well restored and has recently been elected as the nicest village in spain by El Mundo mag. You will certainly enjoy, on your rest days, taking a stroll through its tiny streets, looking at its ancient houses, climbing on the fortifications above the village…
4 kilometers (let's say 2.5 miles for our rosbif friends ;o)) from the village stands a forest in which our ancestors loved to paint on the rocks representations of wild animals and even hunters, which is quite rare for the time when this was done. And I can tell you that they had found a superb place: the forest is magnificient with a lot of roofs and caves to shelter under and hide inside.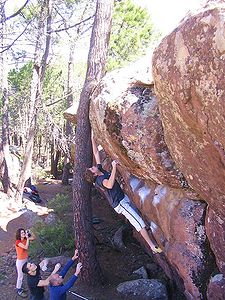 Seb Hot on « El Pais de las Bicicletas », 7a
The boulders are split into several sectors. The most interesting are, in our opinion, Arastradero, Techos and Peninsula .
We did not have time to go and visit the Tierra Media sector but we have been told that it is one of the best.

We didn't like so much the Parking, El Sol and Cabrerizo sectors: these are small areas with a relatively smaller number of test pieces, when compared to the sectors listed above.

The Madriles sector is closed from November to July due to nesting birds, so we didn't visit there either.


Eric Barnabé on « El Succionador », 7c

Arrastradero : the most interesting part of this sector is along a sort of corridor in which one finds stylish boulder problems of every standard. Do not miss 'El Pais de las Bicicletas', 7a.

Techos : techos means roofs in spanish. You'll understand why this name was chosen when you get to it. The boulders here are quite far from each other and the lines are often very overhanging. Don't miss « SuperMafoMacho » (6b), « Tost del Campo » (7c+), located near the Madriles area. But there are lots of other superb problems to be climbed here: for example " La Campana " (7c if you finish to the left and 7c+ to the right).


Gabriel Pont on the right-hand version of « La Campana », 7c+

Peninsula : this sector is not shown on the maps one may find in some places on the net (see below for the links) or in the mags. You can get there by taking a kind of corridor that starts in front of boulders 54 to 58 of Arrastradero sector. The climbing is comprised of physical problems on long wave of rock and some high, magnificient boulders. Do not miss this area, except if it is hot because it's kind of above the trees and the boulders often face south.


Ethel Barnabé on « SuperMafoMacho », 6b
Recommendations :
The Albarracin boulders are in a protected and patrolled area. Climbing there was nearly forbidden a few years ago!
Do not destroy the work of local climbers who have succeded in maintaining access for boulderers.
Do respect the prohibitions and the parking areas. There is only one at the beginning of the forest (Fuente del Cabrerizo) and one in the middle. If you park anywhere apart from these two areas, the rangers will move you on….
Climbing is now regulated in Albarracin. It is now FORBIDDEN to climb in Acantilados-Madriles, Psicokiller, Valle de la Madera (highets part) and Península from january 10th to August 15th.
More informations on Desnivel and on a diptic giving the rules!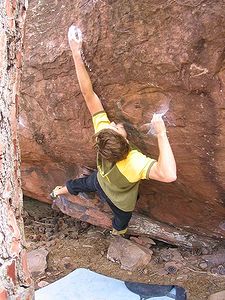 Seb Hot at sector Techos
Practical Information :
• Access :

• Depending on where you come from, there are several ways to get to Albarracin. Check out different routes with online route-planners like mappy.com. Once you get to the village of Albarracin , after you enter the village, turn left then right in the direction of Pinturas Rupestres. You cannot miss that! The bouldering area is about 4 km down that road.


Seb Hot on a 7a between Techos and Madriles
• A lot of climbers stay at the main car park. This is not forbidden if you sleep in your car or outside, but no tents are allowed! Do NOT have any fires!

• There is a campsite in Albarracin : call them, especially before special week-ends.

• Hotels : there are a lot of hotels in Albarracin itself. Checkhere .


Carine Pont on a 6b+ between Techos and Madriles

Carine Pont on a 5+ near the car park
Guides :


– A book used to be at the bar 'El Molino del gato' just at the entrance of the village, below the road. By the way, some nice guys forgot to give it back and you won't find it anymore. No comment.

– The only guidebook, to this day, is E-Bloc. It is incomplete but really is a good start.

– You'll have to complete with the Techos guide from BBK , the Peninsula guide from Escalar 57. You will only miss one of the largets areas : Tierra Media.
• Season to go there : Albarracin is in Spain : it's too hot to climb in the summer. But Albarracin is also at an altitude of 3,900 feet (1200 m) and is protected by mountains from the Mediterranean climate: in the winter you may find some snow and it's always cold. So, it's best to visit in early spring or late autumn.